/ Organizational Unit
International Fellow Prof. Dr. Donna Gabaccia – #Connecting Europe for 25 Years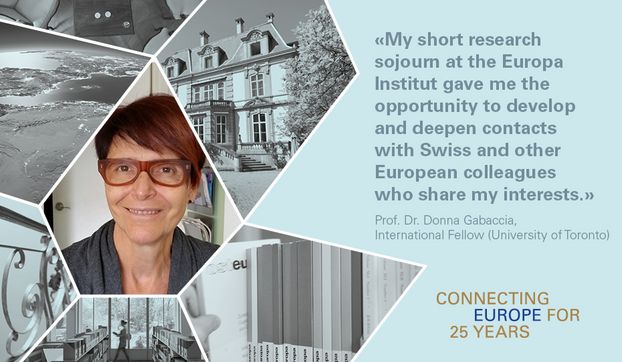 The Institute for European Global Studies regularly hosts international fellows. Donna Gabaccia visited Basel in 2014 and used her time at the Institute to explore why the motif of immigration features so prominently in US history. In her anniversary contribution, she reflects on the impacts her visiting fellowship has had on her succeeding work.

My short research sojourn at the Europa Institut in 2014 not only allowed me to deepen my understanding of Switzerland – as a possible case study for my next book, tentatively titled Imagining Nations of Immigrants – it also gave me the opportunity to re-immerse myself in a multi-lingual setting and to develop and deepen contacts with Swiss and other European colleagues who share my interests in international migration, global dynamics, and the making of culturally plural societies.
Since 2014, I have given several major lectures (in three countries) that compare the United States and Switzerland as plural nations that pride themselves on their democratic commitments whilst making very different choices as they imagine nationhood.
My time in Basel was especially precious because it introduced me to the younger generation of Swiss scholars in history and the social sciences; new relationships with them have in the intervening years created a foundation for me to join their publication projects and to support their applications for research funding.
---
Prof. Donna Gabaccia, PhD, was an International Fellow at the Institute for European Global Studies from March to June 2014. She is Professor of History and former Director of the Immigration History Research Center at the University of Minnesota.
During fall 2018 and spring 2019, we are publishing anniversary stories of researchers, students, alumni, and other people involved with the Institute. Their contributions follow the anniversary motto "Connecting Europe for 25 Years," illustrating the diverse ways in which the Institute for European Global Studies has been connecting lives and exploring local and global entanglements of knowledge for the past quarter of a century.
Further Information: