/ Studies
MOOC "Switzerland in Europe" Has Started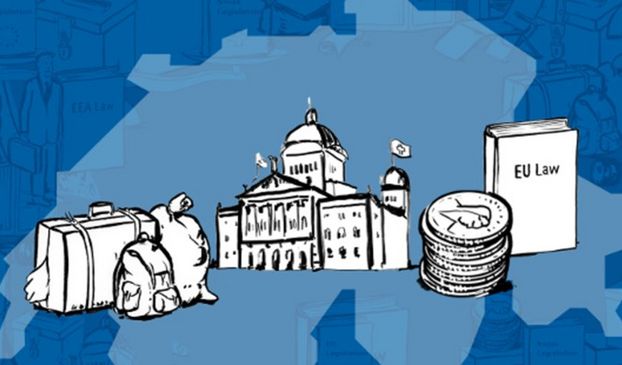 "Switzerland in Europe – Money, Migration and other Difficult Matters", the first MOOC of the Institute for European Global Studies, started in early October. Registrations for the course by Prof. Dr. Christa Tobler are possible on the platform Futurelearn and free of charge. Students of the University of Basel who wish to acquire ECTS credits are asked to also register through MOnA.
The MOOC "Switzerland in Europe – Money, Migration and other Difficult Matters" has been produced at the Europainstitut (Institute for European Global Studies) in cooperation with the online learning platform FutureLearn.
The course by Prof. Christa Tobler deals with the position of Switzerland in Europe, and more generally with the issue of regional integration against the backdrop of global rules. It offers a legal and political look at the relationship between Switzerland and the European Union (EU). Located in Western Europe, Switzerland is a member of the Council of Europe (famous for its Human Rights Convention) but not of the EU, which is particularly economically important. The course elucidates the special challenges of Switzerland as a non-member state of the EU and examines its perception by other states – be they members or non-members of the EU. It also discusses what this perception might imply for other states. The course has a particular focus on much debated issues such as money (e.g. taxation or the banking secret), the debate about curbing immigration (asylum, free movement of persons) and the future of the legal relationship between Switzerland and the EU, as well as the consequences of these issues vis-à-vis and within the EU.
The course enables learners to understand the complexities that influence the legal relations between the European Union and Switzerland. Learners become aware of the preconditions shaping the current situation – including its history. They also reflect on the effect that Switzerland's special situation has for debates in other countries. Learners are encouraged to reflect upon current events on the basis of the insights gained through the course. 
The course is designed for:
Law students specialising in international law
Students in politics
Students at the Institute for European Global Studies
Professionals working in politics or administration, be it in the European Union, the EEA or in Switzerland
Journalists
The course also addresses people without prior knowledge in the field of law.
Detailed information on the course and the registration process can be found on the website of FutureLearn.
Students enrolled at the University of Basel are also requested to register through MOnA between 1 August and 17 October 2016 (course no. 45254). In addition to the online course, they will have to participate in three meetings at the University of Basel and prepare a written paper. Upon successful completion of the course, they will be awarded with 6 ECTS credits.