/ Research
New Book on Political Influence on Economic Growth in Post-Communist European Countries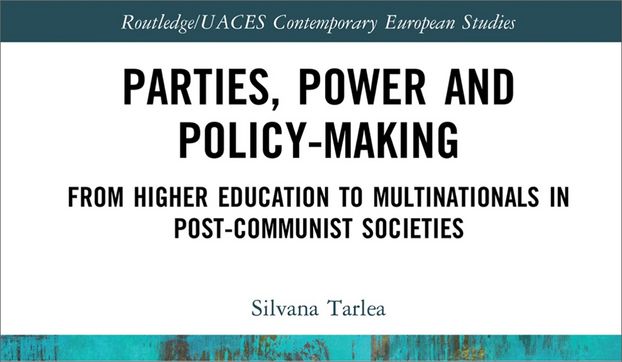 "Parties, Power and Policy-Making" is the title of a new book by Silvana Târlea. In the monograph, the post-doctoral researcher at the Institute for European Global Studies explores the conditions under which political parties in government were able to influence economic growth in post-communist European countries.
"Parties, Power and Policy-Making" highlights higher education and international investment as the two essentially related areas that have been steered by governments in post-communist European countries. Silvana Târlea illustrates how these countries have become reliant on multinational companies, given their governments' strategy to attract foreign capital, how political and economic factors are intertwined, and how political parties in power can have a strong influence on the growth prospects of these economies.
Furthermore, she illuminates the extent to which political parties use their space for maneuvers when enacting policies and how they respond to their constituencies when doing so. She shows how structural conditions such as the dependence on multinational companies influence policies, and how this pattern varies across Central and Eastern Europe. The book brings political parties back into the discussion on political economy and back into the analyses of welfare politics, varieties of capitalism, and democratic capitalism.
The book is of particular interest to scholars and students of comparative politics and comparative political economy, European policy-making, Central and Eastern Europe, trade, welfare and development, and higher education.
"Parties, Power and Policy-Making: From Higher Education to Multinationals in Post-Communist Societies" was published by Routledge and is part of the Contemporary European Studies Series, an outlet for the publication of first-rate research in European Union Studies.
Dr. Silvana Târlea is a postdoctoral fellow at the Institute for European Global Studies and a member of the H2020 project EMU Choices. She is a political economist with an interest in education policies around the globe. Silvana Târlea also does research on the European financial crisis.
Further Information: