/ Organizational Unit
PhD Candidate Dragan Filimonovic, MSc – #Connecting Europe for 25 Years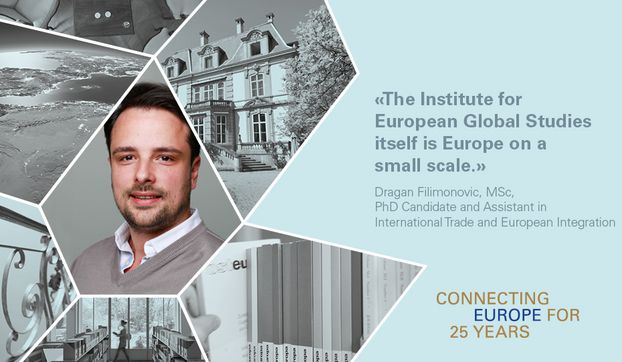 Dragan Filimonovic is one of 19 PhD candidates that currently pursuing their doctoral studies at the Institute for European Global Studies. In his anniversary contribution, the economist emphasizes the great value of working in the truly multicultural and interdisciplinary environment of the Institute.

Who are you and how did you come to work at the Institute?
My name is Dragan and I come from Serbia. I have enrolled in the PhD Program in Applied Economics at the University of Basel and after the first year, I was assigned to the chair of Professor Rolf Weder who is affiliated with Institute for European Global Studies. Hence, as his assistant, I am also a member of the Europainstitut since October 2016.
What is the most interesting insight from you research up to now?
There is sound evidence that people, when facing some lasting financial constraints, sacrifice their leisure time to compensate for the income drop and preserve their consumption levels. This is true even for retired individuals as they use more of their free time searching for cheaper products. My research provides an explanation why austerity measures could work and, interestingly, even lead to some positive developments on the labor market.  
How does your time at the Institute shape your understanding of Europe in its global contexts?
The Institute for European Global Studies itself is Europe on a small scale. The broad diversity across ideas, projects, and nationalities makes it a true representative of the multicultural scientific community that enables its researchers to transcend national borders or the boundaries of particular disciplines. 
Is there a book you would you recommend to someone interested in understanding Europe in its past, present, and future dimensions?
For all of those who are interested in the economic integration with the elements of European historical, institutional, and political aspects, a good starting point could be "The Economics of Integration" by Richard Baldwin and Charles Wyplosz.
What is your spontaneous reaction to our anniversary motto "Connecting Europe for 25 years"?
Nokia of the scientific world!
---
Dragan Filimonovic, MSc, is a PhD candidate and assistant in International Trade and European Integration at the Institute for European Global Studies. In his research, he is particularly interested in international trade and applied economics, currently deepening these interests through a dissertation project on the topics of "Trade, wildlife and smuggling", "Trade Liberalization, Workforce Composition and R&D" and "Income Shocks and Consumption Behavior: Evidence from a Natural Experiment".
During fall 2018 and spring 2019, we are publishing anniversary stories of researchers, students, alumni, and other people involved with the Institute. Their contributions follow the anniversary motto "Connecting Europe for 25 Years," illustrating the diverse ways in which the Institute for European Global Studies has been connecting lives and exploring local and global entanglements of knowledge for the past quarter of a century.
Further Information: