/ Organizational Unit
Prof. Dr. Christa Tobler – #Connecting Europe for 25 Years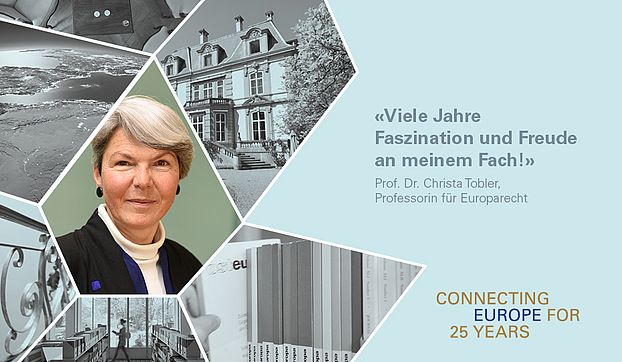 Ever since the Institute for European Global Studies was founded, the law of European integration has been among its research focuses. Christa Tobler joined the Institute as a Professor of European Law in 2000. In her anniversary contribution, she describes the topics she focuses on in her work, observes how her field of research has changed over the years, and explains why law works as a decisive and connecting element in Europe.

The law of European integration deals with a particular type of "Connecting Europe", namely the legal connection, in particular on the basis of international treaties. At the beginning of my time at the Basler Europainstitut, I mainly dealt with the law applicable within the European Union, e.g. in the area of legal equality and discrimination, where I developed a specialisation.
I remain fascinated by EU law, where legal instruments are used in an atypical way compared with traditional international law to guarantee peace and stability and to tackle tasks together. It is true that this does not always succeed equally convincingly in all areas. But as former EU Commissioner Chris Patten once vividly said: the EU is "this wonderful experiment of arguing about fish quota instead of shooting at each other".
I use this statement again and again at the beginning of an introductory lecture on EU law. In a larger context, the EU is following the motto: "Even the weak become strong when they are united" (Stauffacher in Schiller's "Wilhelm Tell"). As is well known, Switzerland does not participate in the inner circle of European integration (EU, European Economic Area). Nevertheless, it is legally linked to the EU - which is a further form of "connecting Europe".
Today, bilateral law between Switzerland and the EU forms my second specialisation, above all the so-called market access agreements, including the Agreement on the Free Movement of Persons. Here, too, I am not bored, as this topic is a constant topic of public debate in Switzerland. - In short: many years of fascination and pleasure in my field!
---
Christa Tobler joined the Institute for European Global Studies as Professor of European Law in 2000. Her research interests include the legal relations between Switzerland and the European Union as well as issues of equality before the law and discriminations.
During fall 2018 and spring 2019, we are publishing anniversary stories of researchers, students, alumni, and other people involved with the Institute. Their contributions follow the anniversary motto "Connecting Europe for 25 Years," illustrating the diverse ways in which the Institute for European Global Studies has been connecting lives and exploring local and global entanglements of knowledge for the past quarter of a century.
Further Information: