/ People
Ralph Weber Dozent im CAS Ostasien an der Universität Zürich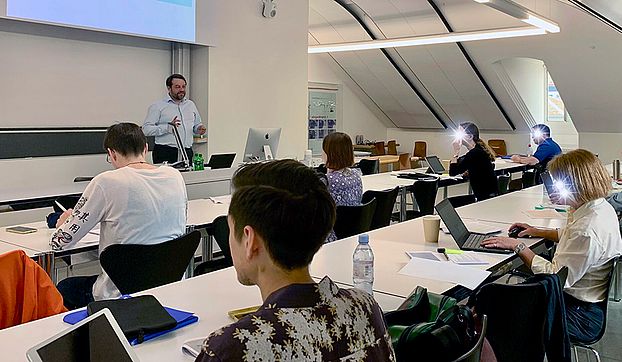 «Politik – Konflikt oder Kooperation» war das Thema eines Moduls, in dem Ralph Weber am 21. Mai 2022 im von der Universität Zürich angebotenen Zertifikatsstudiengang «Gesellschaft, Politik und Wirtschaft Ostasiens» als Dozent mitwirkte. Ralph Weber unterrichtete das Modul gemeinsam mit vier weiteren internationalen Expertinnen und Experten.
Der Zertifikatssudiengang «CAS in Gesellschaft, Politik und Wirtschaft Ostasiens», der von Januar bis November 2022 von der Universität Zürich angeboten wird, ist im deutschen Sprachraum einzigartig und zielt darauf ab, die Teilnehmerinnen und Teilnehmer zur kritischen Auseinandersetzung mit der Region Ostasien zu befähigen. Neben dem Schwerpunkt auf die Politik widmen sich weitere Module den Themenkomplexen kulturelles und geschichtliches Erbe, Gesellschaft und Wirtschaft.
Das Modul «Politik – Konflikt oder Kooperation» widmete sich sowohl den andauernden Konflikten in der Region, wie auch der im krassen Widerspruch dazu stehenden immer weiter zunehmenden wirtschaftlichen Vernetzung. Neben Ralph Weber wurde das Modul von Simona Grano (Universität Zürich), Christopher R. Hughes (The London School of Economics and Political Science), Axel Klein und Hannes B. Mosler (beide Universität Duisburg Essen) im Mai 2022 unterrichtet.
Ralph Weber ist Associate Professor für European Global Studies am Europainstitut der Universität Basel. Zu seinen Forschungsschwerpunkten zählen methodologische und begriffliche Aspekte sprach- und kulturübergreifender Forschung, komparative Philosophie, chinesische politische Philosophie, chinesische Politik und Konfuzianismus.
Weitere Informationen: