/ Organizational Unit
Team of the Institute for European Global Studies and the University of Bonn visits the University of Ghana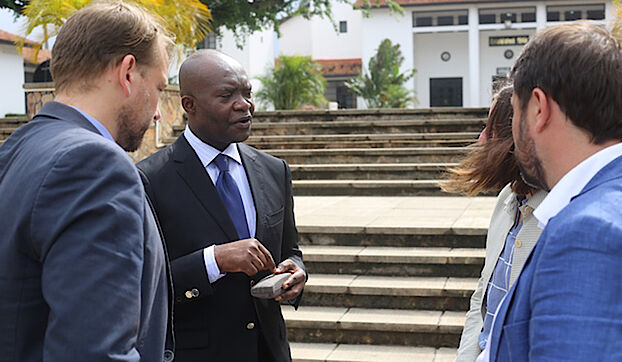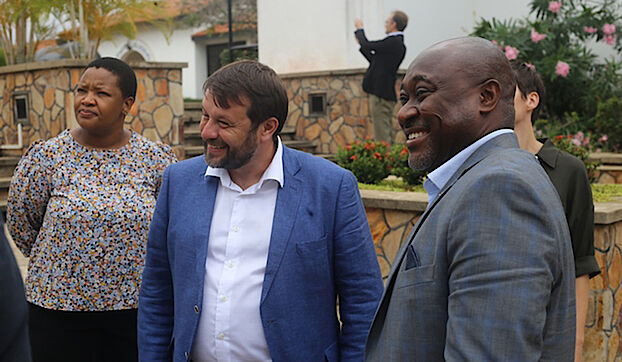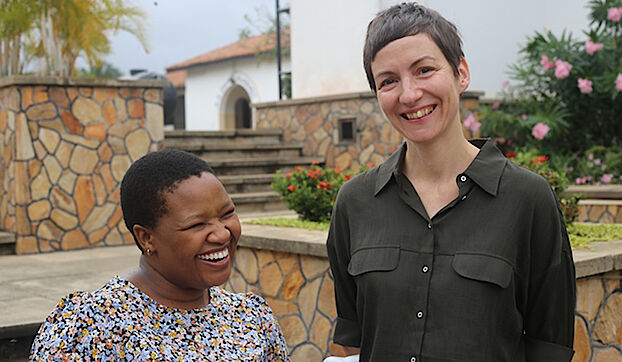 Together with researchers from the University of Bonn, Prof. Ralph Weber, Dr. Lerato Posholi and Isabelle Dörr visited the University of Ghana in August 2022. The aim of their journey was to present the Katekisama Program and to discuss opportunities for cooperation between the three institutions.
Besides meeting Prof. Daniel Frimpong Ofori (Provost, College of Humanities) and Prof. Eric Osei-Assibey (Dean of International Programmes), the team also paid a courtesy call on Prof. Gordon Awandare (Pro-Vice-Chancellor, Academic and Student Affairs). Round tables with members of the College of Humanities revealed a wide range of shared interests in research and teaching.
Academic Exchanges During a Hybrid Workshop
The program also included a hybrid workshop with 30 to 40 participants from the Universities of Ghana, Bonn and Basel. After welcoming addresses by Prof. Daniel Frimpong Ofori, Prof. Dr. Brigit Ulrike Münch (Vice Rector for International Affairs, Bonn University) and Prof. Dr. Hedwig J. Kaiser (Head of National and International Cooperation, University of Basel) the researchers briefly presented their respective projects and discussed them in short Q&A sessions. The workshop covered a wide variety of topics, such as different approaches to migration research, the relation between digitization and ethics, and questions of diversity at African Universities.
Towards Cooperation
As a next step to institutionalize the cooperation, a Memorandum of Understanding (MoU) will be signed between the Universities of Ghana and Basel. Moreover, all three universities agreed on facilitating the mutual opening of virtual courses. A special thanks goes to Dr. Lloyd Adu Amoah (Director Centre for Asian Studies) and his team for the organization of the visit and the great hospitality. We look very much forward to our cooperation.
About the Katekisama Program
The Katekisama Program is a new model of academic collaboration introduced in 2020 by the Universities of Basel (Switzerland) and Bonn (Germany). The program offers young scholars and senior researchers an original and dynamic platform of interdisciplinary, cooperative education and research that enables them to critically explore and analyze today's global realities. The scholars and PhD students benefit from the excellence, experience and global expertise of the institutions in the social sciences and humanities, and from their new and exclusive forms of academic mobility.
Further Information: