/ Research
Building Paradise: New Book on the History of the "Sandgrube" by Susanna Burghartz and Madeleine Herren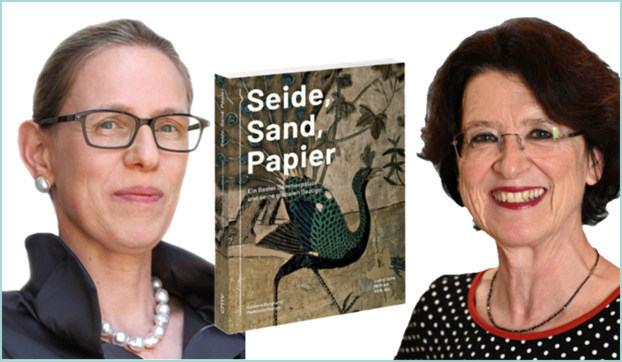 In an 18th century summer house, Basel's global past comes to life. In a newly available book, Susanna Burghartz and Madeleine Herren discuss Basel's multi-faceted global interdependencies using the example of the Sandgrube and its inhabitants. 300 years of global history - fascinating to this day. The book about the current location of the Institute for European Global Studies has been published by Christoph Merian Verlag.
In the middle of the 18th century, Basel silk ribbon manufacturer Achilles Leissler (1723-1784) built a summer house on Riehenstrasse which became known as the "Sandgrube". The building is one of many impressive residences in the vicinity. These not only represented the economic elites of a wealthy city, they were also located close to the production sites that made cotton and silk through special dyeing and printing processes, thus serving a global market.
The book by Susanna Burghartz and Madeleine Herren investigates the history of the "Sandgrube" and its internationally active inhabitants. The building exemplifies Basel's early participation in global markets and its effects on the city.
Susanna Burghartz is Professor of History at the Institute for European Global Studies and the Department of History at the University of Basel. Her research interests include the history of urban societies during the renaissance and the early modern period, early European expansion, women's history and the history of gender, the history of Switzerland, and material culture history.
Madeleine Herren-Oesch is Professor of Modern History and the Director of the Institute for European Global Studies. While her fields of expertise cover 19th and 20th century history, her historiographical approach examines history through its strong connections to the contemporary world in its multilayered, global dimensions.
Further information: