/ Research
Working Lunch with Visiting Fellows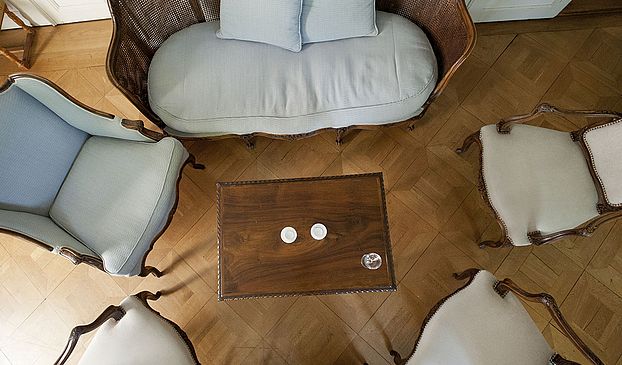 On Tuesday, March 18, 2014, at 12.15 pm, the Institute for European Global Studies invited to a Working Lunch with Visiting Fellows. This time, the scientific input was provided by Dr. Jessica Decou, Dr. Allison Drew and Dr. Nathan Marcus. The event was chaired by Dr. Roger Begrich.
Jessica DeCou holds a doctoral degree in theology at the University of Chicago Divinity School, USA, and is specialized in the evolving relationship between religion and culture in the modern period. At the Institute for European Global Studies, she is conducting research for her upcoming book, "A Fantastic Affair´: Karl Barth in America, 1962," which will chronicle Barth's sole visit to the U.S. in 1962, while also reflecting on the changing landscape of religion in Western culture over the past half century.
Allison Drew is Professor at the Department of Politics at the University of York, Heslington, United Kingdom. Her research focuses on twentieth-century and contemporary Africa, particularly the dynamics between African states and social movements and struggles over development. She has a doctoral degree in Political Science from the University of California, Los Angeles, USA. At the Institute for European Global Studies, she advances her research project "Communism, Violence and Democracy in Algeria and South Africa" which follows the political trajectories of two African liberation movements as they moved from non-violent protest to armed struggle.
Nathan Marcus is a Postdoctoral Research Fellow at the Hebrew University of Jerusalem, Israel. He is specialized in Financial History, with a regional focus on Austria. He holds a doctoral degree in Modern European History at New York University, USA. At the Institute for European Global Studies, he initiates his research project "The Births of Schilling and Deutschmark: a Social and Financial History of Austrian and German Currency Reforms, 1945 – 1955". Apart from Economic and Financial History, he is particularly interested in the History of Sports and Nationalism.
Working lunches are a new platform for communication initiated by Prof. Dr. Madeleine Herren-Oesch. They provide visiting fellows with a forum to present their research and to exchange ideas in a relaxed atmosphere.
Please register at europa@clutterunibas.ch, if you would like to participate in the event.