Structure of Doctoral Studies
Doctoral Studies in European Global Studies are divided into three parts: the acquisition of credit points, the dissertation and the doctoral examination. Members of the Graduate Program acquire at least 18 ECTS points from the academic program. It consists of two areas: Firstly, the subject-specific and methodological skills (in which at least 2/3 of all ECTS points must be acquired) and the transferable skills (in which no more than 1/3 of all ECTS points can be acquired).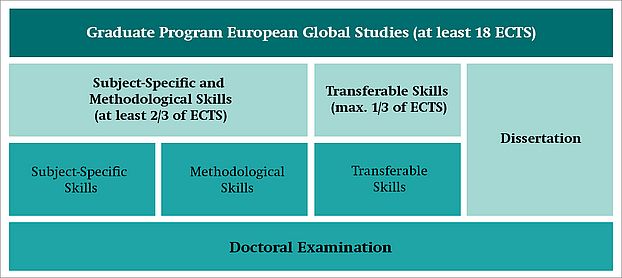 The aim of these courses is to grasp the current state of research in the respective subject area, to become acquainted with current and relevant research methods, to deepen theoretical skills and to network in the scientific community.
ECTS points to be acquired by:
Attendance of courses at doctoral level from the courses offered by the University of Basel (ECTS points as announced in the course catalogue, a total of at least 6 ECTS points is required
Participation and presentation at an international/national meeting / conference / workshop
Either participation and presentation in a second international/national meeting / conference / workshop or by organizing a conference, lecture, workshops or comparable academic events
Further options:

Teaching at a university in the field of the doctoral subject as part of a teaching assignment or as an assistant
Poster presentation at an international/national conference
Participation in a Summer School / Winter School
Externally performed study achievements (according to the guidelines)
Acquisition of interdisciplinary skills to promote careers within and outside of academia and to mediate between science, society, and politics.
Courses and workshop on project management, scientific writing, presentation techniques, poster design, academic teaching, career planning, leadership and conflict management, etc.
Project work / internships and work placements in future occupational fields
Language courses aiming at acquiring language skills in new, research-relevant languages