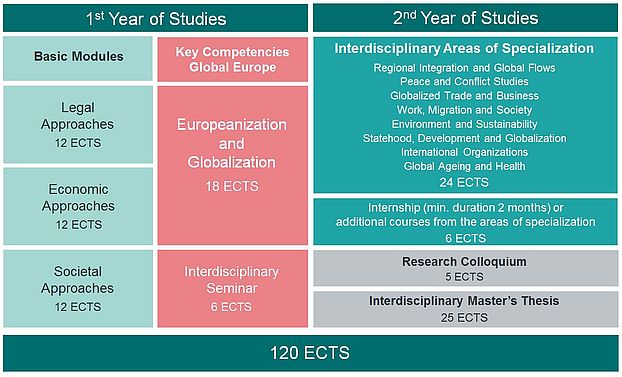 In their first year, students are made familiar with theories and methods from law, economics and the social sciences. Depending on their previous knowledge, they expand their skills or discover subjects that are new to them. In seminars and lectures, they discuss the advantages and challenges of an interdisciplinary approach to the study of Europe in a globalized world.

During their second year, students choose two out of eight cutting-edge specializations to shape their individual profile. They may want to study abroad at one of our partner universities or explore the professional world by completing an internship. At the end of their studies, students write an interdisciplinary Master's thesis with two professors from two different faculties. The program leads to the award of a Master of Arts degree in European Global Studies.

For detailed information on the content of our program please consult our syllabus and the course directory of the University of Basel.
Contact
Isabelle Dörr, M.A.
Course Coordination and Student Counseling
Institute for European Global Studies,
University of Basel
Riehenstrasse 154
CH-4058 Basel
Office 00.014 (Office Hours by Appointment)
Tel: +41 (0)61 207 48 61