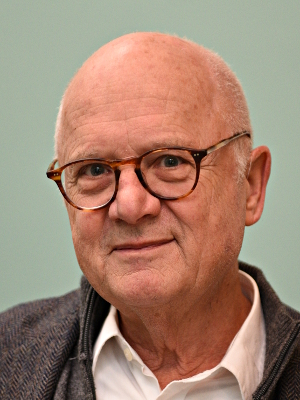 Prof. em. Dr. Georg Kreis
Founding Director, Lecturer in History
Institute for European Global Studies,
University of Basel
Riehenstrasse 154
CH-4058 Basel
Office 02.002
Tel: +41 (0)61 207 48 57
History of the european integration, international relations, issues concerning identity, nationalism, minorities and migration
History of the World War II, genocide, collective memory, representations of the past
History of Switzerland since 1750
Prof. Dr. Georg Kreis was director of the Europainstitute from 1993 - end of July 2011 and is professor emeritus for Modern History at the History Seminar at the University of Basel since 2009. He is still teaching history at the Europainstitute.


Education
1981: Habilitation on the 3rd French Republic till 1914 (PD Dr. phil.)
1972: Doctoral thesis on the Swiss censorship of the press during World War II (Dr phil.)
Studies in History, German language and literature and Geography in Basel (Bonjour, Kaegi, Lüthy), Paris (Duroselle), and Cambridge (Hinsley)


Professional Career
1993-2011: Director of the interdisciplinary Europainstitute
until 2010: Professor of Modern History and History of Switzerland at the University of Basel (emeritus since 2009)
Editor-in-Chief of the "Schweizerische Zeitschrift für Geschichte"
2007-2010: head of the online-history-project "550 Jahre Universität Basel"(2010), together with Susanna Burghartz
since autumn 2007: head of the authors-group for a "Neue Schweizer Geschichte" (New Swiss History)
2000-2005: President of the NF steering group "Schweiz-Südafrika" ("Switzerland - South Africa")
1996-2003: Member of the independent expert commission "Schweiz - Zweiter Weltkrieg" ("Switzerland - World War II")
1995-2011: President of the "Eidgenössische Kommission gegen Rassismus" (Federal Commission Against Racism)
1991/1992: Delegate of the Federal Council to draft a historical report on the national defence from 1935 to 1990 in Switzerland
1985-1993: Head of the Nationales Forschungsprogramm (National Research Programme) NFP 21: "Kulturelle Vielfalt und nationale Identität"
Member of the Comité de Rédaction of the French-Swiss journal "relations internationales"
Member of the national commission for the publication of diplomatic documents in Switzerland
Member of the foundation board of the foundation "Bevölkerung, Migration, Umwelt" ("Population, Migration, Environment"), Zurich
Member of the scientific Board for a Cantonal History of Lucerne in the 20th century
Coordination of the edition of a new "New Swiss History", 2010 (Schwabe Verlag Basel)
Edition of a new History of Switzerland (Schwabe March 2014).
"Politischer Populismus und Medienpopulismus, 1990-2010" (BMU 2012-14).
"Rechtskonservatismus und Frontismus" (History of the Bernese local municipality, late summer 2013).
Edition of a history of the Chemical Industry in Basel (together with Beat von Wartburg, CMS, 2013/2014).
Edition "Quellen zur französischen Geschichte 1800-Gegenwart" (Reclam 2014).
The Phenomenon of Re-Nationalization in Times of De-Nationalization (Das Phänomen der Renationalisierung in Zeiten der Denationalisierung) (1914/15).
---