/ Events
20 Years Institute for European Global Studies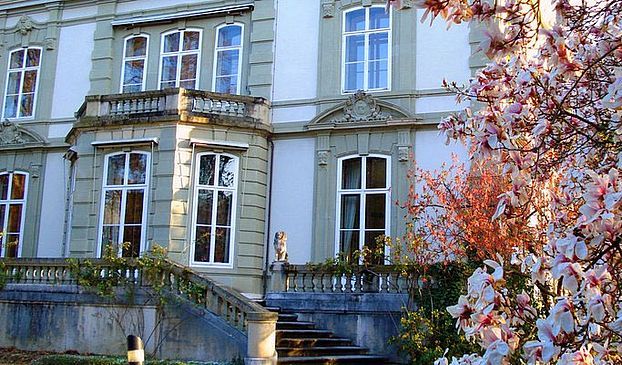 The Institute for European Global Studies celebrates its 20th anniversary this year. The ceremony took place on September 19 in the Old Auditorium of the University of Basel. The keynote lecture was given by the former Federal Councilor Moritz Leuenberger
The event was opened by Director Prof. Dr. Madeleine Herren-Oesch, who took over the management of the Institute for European Global Studies in spring this year. Subsequently, Prof. Dr. Antonio Loprieno, Rector of the University of Basel, gave a welcome address.
Highlight of the event was a keynote lecture by Moritz Leuenberger. The Swiss politician and lawyer talked about "The Home of the Cosmopolitans" ("Die Heimat des Kosmopoliten"). Moritz Leuenberger was a Member of the Federal Council from 1995 to 2010 and headed the Federal Department of Environment, Transport, Energy and Communications. In 2001 and in 2006, he served as President of the Confederation.
Subsequently, the graduates of the study program "Master of Arts in European Studies" (MA) and the post-graduate study "Master of Advanced Studies in European Integration" (MAS) received their diplomas. The graduate with the highest rate was awarded the Endress + Hauser Award. Endress + Hauser, a market leader in automation solutions, is a worldwide successful family business from Reinach near Basel.
The celebration ended with concluding remarks by Dr. Lukas Engelberg, a lawyer and the president of the "Friends of the Institute" (Foerderverein). The association comprises 450 members and provides outstanding services for the Institute for European Global Studies. Among many other contributions, it supports students by providing scholarships. In addition, the Institute has a Foundation Board (Stiftungsrat) consisting of personalities from the administrative departments of the cantons as well as from the policy and business sector, which advises the directorate and general management in strategic issues.
The musical entertainment was provided by the "Duo Silk Road" (Duo Seidenstrasse), consisting of Benjamin Leuschner and Chanyuan Zhao. The two musicians create "an expressive symbiosis between Chinese art music and classic occidental percussion sounds which establishes a new world music direction", as a jury stated in the laudation. The duo has won several awards and participated in international festivals such as in Morocco and Italy.
The "Europainstitut Basel" was founded in 1993. Founding director was Prof. Dr. Georg Kreis, who built up and headed the institute until 2011. A few months ago, the three involved faculties decided to extend the profile of the institute to research on Europe in a global perspective. Today, the Institute for European Global Studies is a research institution subordinated to the rector's office at the University of Basel. As an interdisciplinary institution, it combines research and teaching in an area that was defined as one of the university's strategic foci for the upcoming performance periods. The institute continues the established tradition of studying the processes of European integration in teaching and research and offers specialized study programs, advanced training courses as well as other services in this area.
Further information: