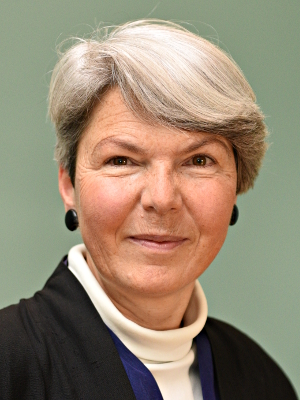 Prof. Dr. Christa Tobler
Professor of European Law
Institute for European Global Studies,
University of Basel
Riehenstrasse 154
CH-4058 Basel
Office 00.002
Tel: +41 (0)61 207 48 52
Professor Tobler has published articles on a variety of topics within EU law. However, she is mainly interested in issues regarding equaling rights, in business law as well as social law. Her habilitation dealt with the development of the legal concept of discrimination within EU law and Swiss law, respectively. Furthermore, Prof. Tobler conducts research on EU integration techniques, e.g. regarding its relations with third countries, and hence on bilateral law.
Schweizerisches Jahrbuch für Europarecht 2020/2021: The example of the participation exemption method under Norwegian corporate tax law (gemeinsam mit Dr. Georges Baur, Liechtenstein Institute)
Kommentar Schweizerisches Heilmittelgesetz, Art. 13, 2. Auflage
Für den Schweizerischen Juristenverein, Schweizer Juristentag 2021: Gleichstellung und politische Rechte: auf dem Weg zu einer integrativen Demokratie (weit gefasst: Ausländer*innenstimmrecht, Auslandschweizer*innenstimmrecht, Jugendlichen-Stimmrecht und Behinderten-Stimmrecht)
EU-Switzerland Relations: Current Issues, Leiden: Brill Nijhoff 2022 (Herausgeberschaft gemeinsam mit Prof. Marc Maresceau, Universität Gent)
Thematic report on indirect discrimination in EU law (for the European Equality Network of the European Commission, 2022)
Chapter on Advocate General Warner's opinion in the Bouchereau case, for: Graham Butler/Adam Lazowski (eds), Shaping EU Law the British Way: UK Advocates General at the Court of Justice of the European Union (Oxford: Hart Publishing 2022)
"Switzerland in Europe: Money, Migration and Other Difficult Matters" is the title of the Massive Open Online Course (MOOC) by Prof. Tobler, which was produced by the Institute for European Global Studies in collaboration with the learning platform FutureLearn. It deals with the legal and political relations between Switzerland and the European Union. Current and much debated issues such as taxation and immigration are addressed against the backdrop of the interconnectedness of states in the modern world. The videos which were produced as part of the course are freely accessible via the learning platform FutureLearn. A list of the links can be downloaded here.
Regarding the supervision of Master Theses in European Global Studies, I am happy to consider enquiries from students on topics relating to European Union Law.
At present, I am particularly interested in theses researching questions within the following domains:
internal market law
EU equality and non-discrimination law
modes of regulation within the EU
EU association law
the legal relationship Switzerland-European Union
You are also encouraged to read the information on on-going research projects on European law.
You can download the full CV as a PDF file here: CV - Prof. Dr. Christa Tobler.
Education
2004: Habilitation at the University of Basel, eligible for a full scholarship teaching Swiss public law, European law and Gender law
1993/1994: Studies in European Community Law and gender equality before the law at the University of Leiden (Netherlands)
1991: Zurich Bar Exam
1988: Ph.D. based on a thesis on Swiss trademark law
1985: Law degree, Zurich University
Professional Career
After her Ph.D., Christa Tobler spent eight months conducting research at the Comparative Center in Kyoto before working at the district court in Winterthur, initially as an auditor, then as a court clerk. She then worked as a lawyer in Winterthur as well as teaching private law at the University of Zurich. In spring 1994, Christa Tobler was the Winning Advocate General at the European Law Moot Court competition. After a stage at the European Court of Justice in Luxembourg, she spent the first half of 1995 as a Jean Monnet Fellow at the European University Institute in Florence, participating in an interdisciplinary research project on "Gender and the Use of Time" (European Forum). In August 1995, Christa Tobler was appointed as the academic coordinator of the Leiden LL.M. Programme in EC Law. She held this position until August 2002, when she was made lecturer in EU Law. From 1998 to 2000. Christa Tobler held a lectureship in gender law at the University of Basel. In October 2000, she was appointed associate professor at the Europainstitute at the University of Basel.
At present, Christa Tobler is professor of the law of European integration at the Europainstitute at the University of Basel (since 1 October 2005) and professor of European law at the University of Leiden in the Netherlands (since 1 April 2007). In Leiden, she mainly teaches in the Master's program in "Advanced Studies in European and International Business Law". Prof. Tobler is a regular moot court judge for the European Law Moot Court-competition. She is a member of two of the European Commission's networks of legal experts in the anti-discrimination field (www.equalitylaw.eu/about-us) and of the editorial Swiss Review of International and European Law (www.szier.ch/). Christa Tobler is co-founder of the "EU LAW in Charts Project" (www.eur-charts.eu), which aims to contribute to a better understanding of EU law by employing graphic elements.